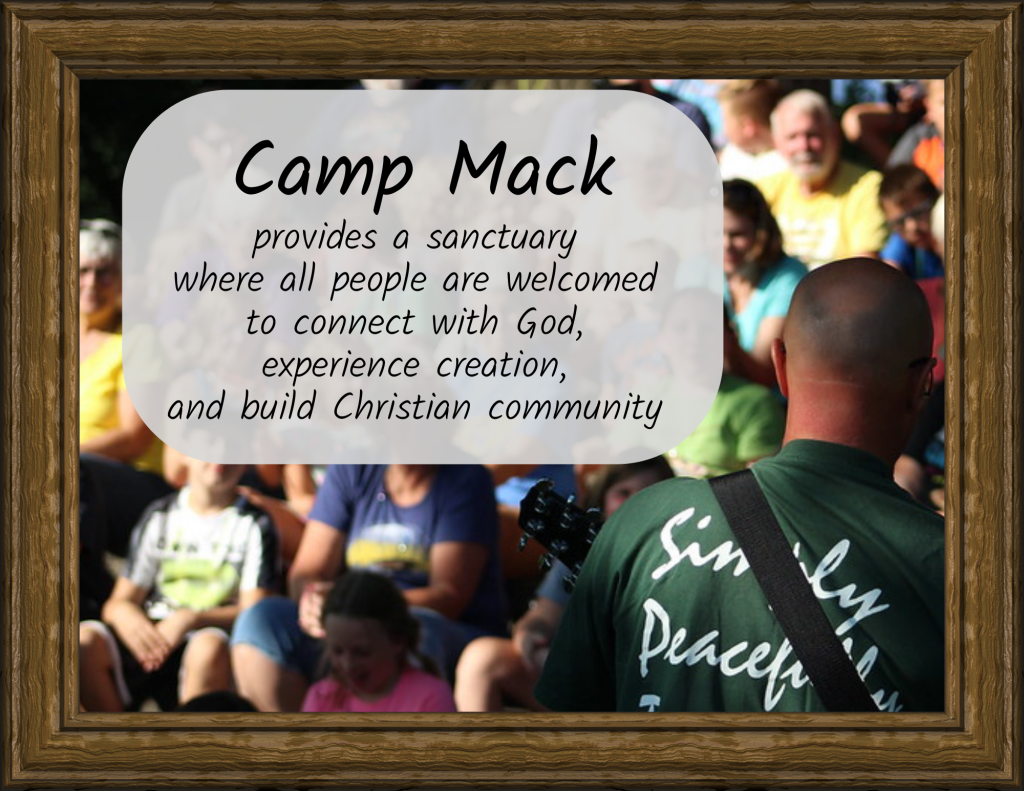 About
Camp Alexander Mack is a Christian Camp, Retreat and Conference Center located on 200+ acres on the eastern shore of Lake Waubee in Northern Indiana. The facility is a ministry of the Indiana Camp Board and affiliated with the Northern Indiana and South/Central Indiana districts of the Church of the Brethren. Since its beginnings in 1925 the camp has served as a place of leadership development and faith formation for the children, youth and adults who have come through its arches. It is the site of murals depicting the History of the Church of the Brethren as depicted by the artist Medford Neher. Our summer camp program is intentionally designed to provide campers with life-changing experiences that lead to the formation of personal faith within a safe Christian community. Our leaders are trained to focus on physical and emotional safety, skill development, and age-appropriate programming that is exciting, educational and enriching. In addition to training, our leaders have a heart for ministry and kids, and a love of summer fun that they share with the campers. A progression in programming makes each summer at Camp Mack more exciting and challenging than the last.
Meeting Facilities
Group meeting rooms in each lodge for overnight or day-use groups.
Beautiful stone and stained glass seasonal chapel overlooking Lake Waubee – seating 75+
Spacious seasonal Auditorium seating 700 people and the location of the Church of the Brethren historical murals.
Outdoor settings for church worship and lake baptisms.
A variety of audio-visual equipment and supplies are available.
Dining
Kate Warstler Dining Center has flexible dining arrangements overlooking the center of the camp and Lake Waubee with expansive deck (setting for 300+).
Nutritious and tasty meals served buffet style.
Served banquets upon request for special events for holidays, businesses, family gatherings, birthdays and anniversaries, graduations, Church and community group gathering, weddings and other special events. For more info, click here.
Recreation
Hiking trails in Wilderness Area and main campus
Sailing, Canoeing, Kayaking, and Rowboating
Swimming
Fishing
Sand-court Volleyball
Basketball, Softball and Soccer
Low Ropes Course/ Challenge Course
Four-square courts, Gaga Ball, 9 Square in the Air
Ping pong, Croquet, and Horseshoes
Campfires
Climbing Tower and Zipline
Flying Squirrel
Experience Camp Alexander Mack
Take a tranquil walk through our wilderness and prairie area where wildlife surprises you at at every turn!
Feel the warmth of God's presence as you sit on the lake's shore.
Enjoy magnificent sunrises and sunsets.
Enhance your prayer life in this sacred place.
Drink in the healing balm of God's Spirit as your spirit is restored to wholeness by the delightful sounds of creation at its best. All of this and more is yours as you retreat at beautiful Camp Alexander Mack!
Mission Statement
Camp Mack provides a sanctuary where people connect with God, experience creation, and build Christian community.
Explore This Section