OE FAQ's
Have Questions? We probably have an answer!
What if it rains?
Camp Mack's Outdoor Education program typically happens in the fall and spring, so storms can happen. Days can be sunny and warm, but rain can also be in the forecast. Fortunately, rain usually does not affect our program. Since rain can happen any time, be sure to have your child bring a raincoat to Outdoor Education. An extra pair of shoes is nice to have in case one pair gets wet. Our programs go outdoors rain or shine, so dress for the weather!
What is the food like?
Great! Our kitchen staff has had years of experience cooking for students. Special dietary needs are always accommodated. Be sure to contact us with any questions about dietary needs because of food allergies, and note these on your registration form, too.
Does my child get to take showers?
Yes. Showers are located in the bunkhouses and in the center of each cabin cluster.
Will my child be in a cabin with his or her friends?
We cannot guarantee that your child will be in a cabin with his or her friends, as the rooming assignments are ultimately up to the school. Generally though, they are with 2-3 of their friends, but also with others so they can make new friends.
What kinds of animals will my child see?
Camp is home to groundhogs, rabbits, deer, raccoons, opossums, bald eagles, turtles, garter snakes, and many tiny insects. We very rarely see any dangerous animals, and there are no poisonous snakes in our area. While brown recluse spiders are around, the only animal-related injuries in Camp Mack's history are small scrapes from a zebra mussel (and those live in the lake, so most students will not come in contact with them).
What happens if my child has a problem at night?
Adult cabin leaders sleep in the cabin with your child and his or her cabin mates. Students can wake their cabin leaders in the event of a problem or emergency. Additionally, teachers are on-call in a nearby cabin and are available to assist with an emergency. Our professional Outdoor Education staff are also on-call 24 hours a day to respond to a serious medical situation.
What should my child bring?
Refer to the packing list for any questions about which items to bring.
Explore This Section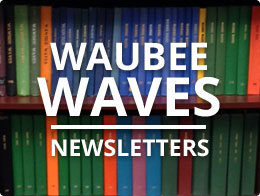 For More Information:
Kristen Werling, Outdoor Education Coordinator
Phone: (574) 658-4831
Email: kristen@campmack.org