For Parents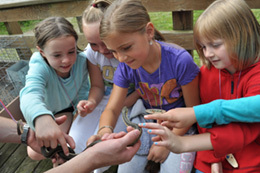 Welcome to Outdoor Education with Camp Mack!
We are thrilled your child is going to experience Outdoor Education with us! The information here will help you and your child prepare for their time at camp.
Your school is offering your child an educational experience in the outdoors through Camp Mack's Outdoor Education program. This is a new program for Camp Mack, and we emphasize experiential and interdisciplinary learning in a natural environment. Our Outdoor Education classes are standards-based, so you don't have to worry about your child missing school.
Outdoor Education with Camp Mack provides a unique opportunity for students to develop self-esteem, self-sufficiency, and social responsibility while also learning about the natural sciences. Students take care of themselves by making their beds, caring for their clothes, and keeping themselves clean. They work as part of a team by helping at meals, cleaning the dining hall, and on our challenge "ropes" course. Students learn about animals, ecosystems, and the scientific principles that govern them. The opportunity for new friendships and the spirit of cooperation make your child's time at Camp Mack a growing, learning, memorable experience!
We want to assure you that your child will be safe and cared for at Camp Mack. Your child will be supervised at all times by their cabin leader, one of our trained professional staff, or their teacher. Our staff are all trained in first aid and emergency response, and will contact you if your child experiences any health problems while at Outdoor Education.
Groups provide two adult chaperones for every ten youth, at least one adult of appropriate gender per sleeping space. Adults working with children must be cleared by a state- or nationally-recognized background check. Schools must submit a letter from a school administrator on school letterhead certifying first and last names of all checked adults attending the program.
It is not unusual for some students to miss their families and homes for the first few hours at Outdoor Education. You can help prepare your child for their time away from home by communicating your enthusiasm and excitement. Promising to come get your child if they are unhappy is generally counterproductive. Children who believe that parent pick-up is an option often do not adjust well to being at camp. The vast majority of students who experience homesickness finish the session successfully. As students overcome homesickness, they build confidence, independence, and positive memories of individual and shared experiences. Another way to help set your child up for success is to have sleepovers at and away from home prior to their trip. This usually helps them feel secure with friends and other adults, or conversely may let your know that this trip is not for your child.
Outdoor Education is a once in a lifetime experience that your child will always remember. The learning and excitement shared with friends and classmates is often mentioned by students as a highlight of their school years. Thank you for helping the Outdoor Education staff and teachers make this the best possible experience for your child!
Staff
Kristen Werling, the Outdoor Education Coordinator, came to Camp Mack after teaching geology and geography classes at North Idaho College and Washington State University. She also spent years as a middle school and high school long-term substitute teacher and curriculum consultant for outdoor education programs in the Pacific Northwest. Kristen provides year-round leadership for the program and selects our staff team for character, leadership, and educational skills.
Our field instructors are committed to our program's mission: "Connecting students to the natural world and each other." Their backgrounds and training includes the natural sciences, environmental stewardship, and team-building. They are especially excited to work with elementary and middle-school students, but love mentoring any age student!
Classroom teachers from your child's school attend and serve as a link between school and home, and often student parents come as adult mentors and cabin supervisors.
All staff undergo professional training specific to our facilities and programs, and staff and parent volunteers undergo federal and state background checks.
Accommodations
Students stay in bunk houses or cabins. Our food service staff prepares awesome, well-balanced meals. Special diets for medical reasons should be noted on your child's registration form and will be relayed to our cook prior to the trip.
Phone
There are no phones available for students, so please do not ask your child to call you or expect to reach him or her by phone. For emergencies, you may call 574.658.4831 days, or 260.223.0852 evenings. In case of an emergency at camp, we will contact you. Please do not send a cell phone or other electronics with your child.
Visits
Parent visits during a student's Outdoor Education attendance may detract from the positive development of self-reliance and may negatively impact children who cannot have a parent visit. Therefore we ask that you do not visit your child while he or she is attending Outdoor Education.
If you wish to visit the program prior to your child's attendance, please contact the camp at 574.658.4831 to arrange a time and date to visit.
Health Information
To help us provide a safe and enjoyable experience for your child, please fill out the medical form distributed by your child's classroom teacher. We need to know about your child's current health status and any medications that he or she is taking. In the event of an accident, we need to know where to reach you, what to do if you are unavailable, and the name of your insurance carrier.
Clothing
Please adhere closely to the clothing checklist. Proper clothing for the seasons is essential for your child's comfort and well-being. Older but serviceable clothing is best. We urge you not to buy new clothing or equipment. Space is limited. Please send only one duffel bag or suitcase and a sleeping bag. For detailed information, please refer to our packing list.
Explore This Section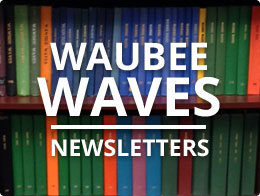 For More Information:
Kristen Werling, Outdoor Education Coordinator
Phone: (574) 658-4831
Email: kristen@campmack.org